Gus Cannon
Biography

Born September 12, 1883 in Red Banks, MS
Died October 15, 1979 in Memphis, TN

A remarkable musician (he could play five-string banjo and jug simultaneously!), Gus Cannon bridged the gap between early blues and the minstrel and folk styles which preceded it. His band of the '20s and '30s, Cannon's Jug Stompers, represents the apogee of jug band style. Songs they recorded, notably the raggy "Walk Right In," were staples of the folk repertoire decades later; and Cannon himself continued to record and perform into the 1970s.

Self-taught on an instrument made from a frying pan and a raccoon skin, he learned early repertoire in the 1890s from older musicians, notably Mississipian Alec Lee. The early 1900s found him playing around Memphis with songster Jim Jackson and forming a partnership with Noah Lewis whose harmonica wizardry would be basic to the Jug Stompers sound. In 1914, Cannon began work with a succession of medicine shows which would continue into the 1940s, and where he further developed his style and repertoire.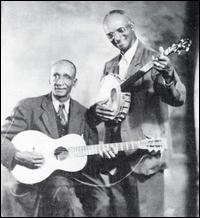 His recording career began with Paramount sessions in 1927. He continued to record into the '30s as a soloist and with his incredible trio which included Noah Lewis along with guitarists Hosea Wood or Ashley Thompson. (Side projects included duets with Blind Blake and the first ever recordings of slide banjo!) Often obliged to find employment in other fields than music, Cannon continued to play anyway, mostly around Memphis. He resumed his stalled recording efforts in 1956 with sessions for Folkways. Subsequent sessions paired him with other Memphis survivors like Furry Lewis. Advancing age curtailed his activities in the '70s, but he still played the occasional cameo, sometimes from a wheelchair, until shortly before his death.

Source: Steve James, All Music Guide

Gus Cannon was born on September 12, 1883, in Bed Banks, Mississippi (Marshall County). As a kid he had always been interested in music. He even made his own banjo from a guitar neck and a bed pan. He got his first real banjo when he was fifteen.
Cannon was a remarkable musician. During the 1920's and 1930's, jug bands started to make the music scene. Jug bands played "blues" style music with a slight country sound. One member of the band would play a jug by blowing over the top of it, thus the name. Cannon was able to strap a jug around his neck so that he could blow into it and play his banjo at the same time.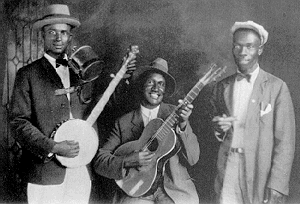 Gus Cannon did have his own jug band called Gus Cannon and the Jug Stompers. The bad consisted of five people: Cannon (banjo/guitar), Noah Lewis (harmonica), Ashely Thompson (guitar), and two other guitarists named Hosea Woods and Elijah Avery. They became very popular as they started out in 1928, but soon they had to stop recording due to the Depression in the 1930's. Cannon's recording career started again in 1956. In the 1960' s he was able to play at some folk and blues festivals. He also played through the 1970s but died in 1979 at the age of ninety-six.
Source: Isaac Gardner (SHS)
Gus Cannon was the best known of all the jugband musicians and a seminal figure on the Memphis blues scene. His recollections have also provided us with much of our knowledge of the earliest days of the blues in the Mississippi Delta. Cannon led his Jug Stompers on banjo and jug in a historic series of dates for the Victor label in 1928-1930. The ensemble usually included a second banjoist or guitarist, one of whom often doubled on kazoo, and the legendary Noah Lewis on harmonica. The jug-band style enjoyed a revival during the folk boom of the '50s and '60s, resulting in an ultra-rare Gus Cannon album on Stax, of all labels, after his "Walk Right In" became the nation's best-selling record for the Rooftop Singers in 1963. Cannon's Victor output was also a favorite source of early blues material for the Grateful Dead.

Source: Jim O'Neal, All Music Guide